I am a man with a yellow safety vest
I need some hot water, please.
He approaches me with a perfect English, with the hint of an accent, rolling his r's. "Can you give me some in a large container?" I nod with a smile. I am a man with a yellow safety vest. One of those to whom we go to for this type of request and who takes care of it with a smile. Two arms and a smile are all I have for the people over here, which is already much to offer. He found me on his path and simply asked me for some hot water. He asked me for it because I am a man with a yellow safety vest. The one who brings a touch of humanity to a long inhuman journey. He is a refugee, fleeing his far-off war torn country, who has landed on this Greek island named Lesbos the morning before. The sun is shining high already. The camp is calm. Men are standing in small clusters around the braziers and children are playing laughingly. I head towards the tea tent.
Yesterday was New Year's Eve. The camp was calm too. The weather was cold; some snowflakes had fallen during the day, yet this had not filled with wonder those who were seeing for the first time the sky letting loose of its white crystals. The wind was blowing; everyone had taken shelter as much as he or she could, inside his or her tent. Those who were not in tents had taken a taxi to Mytilene, to celebrate the start of the New Year in the comforting warmth of one of the city's many cafes. Either in the café or inside the tent, everyone hurried to find a shelter; there was no reason to stay out late that night.
Ihad chosen the café. Together with my friends, we had taken off our yellow safety vests, and had celebrated that particular New Year's Eve by banging together happily our mojito drinks in a bar where people danced until late night. The night was passing quickly. Around 4 o'clock, I felt the desire to enjoy watching the sun rise over the sea on my last day on the island with the refugees. In my little red car, I left the city and drove slowly towards the south. The night was still dark, the weather was still cold, but the sky was clear. The wind was still blowing. "The sea must be rough, I told myself, and I doubt that boats would depart tonight". All the better. It is better this way. We would like boats not to cross. We would have wished that no boats ever crossed. But this is never ending. They will continue to cross. Again and again. Whatever happens. However the cold, the risks, the laws, the walls, the borders, the barbed wires, the smugglers, the drownings however the warnings, whatever the price. The candidates to crossing are millions. Millions who will show up every day on two rubber lumps in the middle of a freezing sea, in groups of forty or sixty persons, without so much as knowing exactly where they are landing. As long as this sea, however hostile it is, remains safer for them and their children than whatever they are fleeing from in the main land, they will keep coming. But tonight there will probably be none, the sea is too rough and it is better this way. I drove alongside the airport and was carrying on my way slowly on the nearly straight road, before stopping at this little esplanade above the shore , right before the road starts going upwards, snaking its way towards the west of the island. The HCR buses were already there, engines turning to keep the heating on. The Dutch boat rescuers' van was there too, like every night. Behind the windshield, a man was scrutinizing the horizon with his binoculars, muffled in a warm jacket. In the back, youngsters were sleeping, whether they were boys or girls was difficult to say, under their thick woolly hats. A few isolated volunteers, like myself, had parked their cars on the edge of the little cliff.
It was a magnificent sunrise. The memory of its brightness still illuminates my eyes. The wind was blowing, cold and strong, yet the sky had not been this clear in days. The winter sun here rises lazily. As if it was also having a hard time waking from a good night sleep and was somewhat hanging around daydreaming. When the sun rises ever so slowly above the Aegean Sea, the morning lights' display is even more stunning. At the beginning, the sea is still dark, but a glimmer starts appearing above an irregular line, which you figure out to be the nearby Turkish coast. Then, slowly, an orange line appears, immediately sweeping away the night's darkness from above the far away mountains, while a star, my star, still shines strongly above my head. We have to wait for more long minutes to go by before the day's brightness starts to surface, before being able to tell the difference between sea and coast. However, the slowness of time passing is a delight. My star is still there, it shines brightly. I love this star that follows me wherever I go, always the last one to disappear. The sun disk appears, purple to start with, rising up gradually behind the mountain. The sea becomes tinted with a deep blue color and the sky follows, or is it the opposite. A cloud appears above the sun and it looks like a flying space ship from the opening credits of a Hollywood science fiction movie. The cloud stretches out, the ball shaped sun grows and turns yellow, and it looks now as if a big bird was gliding over the landscape. This sight lasts for hours and it is beautiful. From time to time, I get out of my car in order to immortalize the moment, take a breath of fresh air and exchange a few words with the others who are there, gazing at the horizon, like me, full of morning beauty. I have not slept, yet I do not feel sleepy. I hurry to get back in the feeble warmth of my small car. When the sun finally settles in, in all its majesty, the day colors freeze for a long period. Soon after, the HCR buses start leaving one by one, which points out that no boat is likely to come that morning. What time is it? Eight? Nine? It doesn't matter, it is 2016, and there is no need to rush. The wind subsides little by little with daylight. With my lucky red woolly hat on my head, I get out and join the already formed group of Lesbos's Ra worshipping volunteers that morning.
The magic is complete when a van of Greek volunteers turns up on the little square, unwrapping on a little wobbly picnic table a profusion of shortbread biscuits, brioches and cakes. This is the traditional New Year's Day breakfast, a local custom. Which you have to enjoy while drinking shots of some sort of ouzo with high alcohol content bottoms up while clicking your tongue. I am not outdone. I taste everything. I want to go through the full experience. Then, a big camera gets closer causing a stir. A short portly man with Chinese features and thick beard joins the group. It is Ai Weiwei. We had kept bumping into him all week long, and to think that I barely knew who he was until last night! I make up for it and introduce myself. He isn't very talkative, that Chinese man. Yet I do not give up. I take a selfie with him. Actually, he does, because Ai Weiwei is very kind; not talkative but very kind; and he takes selfies with all those who ask him for it, however no one takes a selfie with Ai Weiwei. It is Ai Weiwei who takes the selfie with you in it. He centers, barely smiles and pushes the button. Thank you Ai Weiwei. What a success!
I stay for some more time, here, by the water. It is my last day in Lesbos, and even though a day here is worth six months, nevertheless I feel that I haven't had enough. Am I allowed to think that I would have liked to stay here much longer? Am I allowed to say that I spent extraordinary moments in Lesbos? Am I allowed to say that I laughed with the refugees? Am I allowed to say that I loved my volunteer friends? Am I allowed to say that sometimes I did not like the attitudes of some volunteers and of some refugees? Am I allowed to say that in these tense moments I felt like punching certain volunteers or certain refugees in the face? Am I allowed to say that some men refugees are handsome, some women refugees are beautiful, and that all the children are endearing? Am I allowed to say that some of them are less graceful to my eyes, yet just as sweet? Am I allowed to say that approaching all of them was so easy and pleasant? Am I allowed to say that I raised my voice on some of them? Am I allowed to mention all the moments where I felt like crying, shouting, rebelling? At the sight of the sea, and all these boats coming in. Am I allowed to say that, upon arrival at the shore, it is the refugees' smiles and laughs that prevail? Am I allowed to say that I have probably met more terror spreaders in a metro train in one morning in Paris, than during all these days spent among refugees from Iraq, Afghanistan and Syria? Am I allowed to say that these grandmas and grandpas having landed at daybreak, whose entire memories of a lifetime are fitted inside a small black plastic bag, with their canes, their wheelchairs, and their clusters of grandchildren are the most dignified and touching beings I have met recently? Am I allowed to say that I feel neither responsible nor guilty of causing this whole chaos and that I will keep on drinking my champagne because it will not make any difference? Am I allowed to say that meeting so many volunteers and refugees from all over the world, with origins from more countries than I could ever visit during a lifetime, made me revisit my geography knowledge? Am I allowed to say that I re-studied notions of history, philosophy and religion? Am I allowed to say that I reviewed the human condition? « Am I allowed to say that I loved coming to Lesbos? » Am I allowed to say that I loved coming to Lesbos? I think I am. Because you receive here more than you give, and because you cross paths here with dozens of angels, and just as many life stories.
And so I stay here for some more time, by the waterside. Thinking about all of this. And I look at the sea. I love the sea. I love the sea in all its shapes. I love all seas. I love the sea when it is quiet, I love it when it roars, I love the sea when it is transparent, I love the grey sea, the Black Sea, the Dead Sea, the Red Sea, I love the sea when it is white with foam, I love the big waves, I love the wavelets, the backwash, I love the open sea, I love the coast, the arrival on the islands, I love the islands, I love the Atlantic, the Mediterranean, I love Tangier and Belle-Île, I love Mogador and Massilia, and I love the Aegean Sea.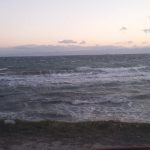 However, I don't know if I will still manage to look at it without feeling shivers in my back, or a tear in my eye. I don't know if I will still be able to love the Aegean Sea, after having seen it here, spitting out every day batches of refugees. So I stay some more time by the waterside, confused, savoring this moment of sunshine and feeling sorry for this sad sea. Soon after, without really knowing why, I suddenly get back inside my car and drive towards Moria.
I am happy to be back in Moria that morning. Happy to find my friends from the day before, with their yellow safety vests already busy working. I kiss those whom I will say goodbye to a bit later on. With no boat arrivals during the night, the camp should be quiet today. The sun is back which is good news. It warms up the day. A beautiful day is starting. I am happy to be back at Moria, to feel useful in my yellow vest, with my two arms and my smile. So I smile to refugees coming down the hill in small groups, carrying their heavy bags, I send out "salam" greetings their way, left and right. They are happy to be leaving, unlike me. They wished to shorten their stay at Moria while I wished the opposite. They are glad to be going away from this place. I am sad. I was on holiday. They were not. I was having beers at night in the cafe with friends. They were not. I was sleeping in a warm comfortable bed. They were not.
I am asked for some hot water, hence I get down to business. I head towards the tea tent, where volunteers take shifts day and night to prepare boiling hot chai with spices in a huge cooking pot on a gas cylinder. At any given time, refugees show up and are offered a cup of hot tea with milk and some biscuits. As if it was a glimpse of humanity in a long inhuman journey. Hot water is already boiling in the cooking pot, so I am not made to wait before filling up one of the big thermos flasks that we normally use for the tea distributions at the long waiting queues for the Frontex registration.
Therefore, that morning, I am back with the enquiring man rather quickly, holding the hot water bottle in my hand. And since I am a yellow safety vest man, after having handed the hot water, I smile and start a conversation. I am a man wearing a yellow safety vest, the one providing a trace of humanity in a long inhuman journey. So I chat a little bit with the man. I ask him: "so are you preparing tea for the whole family?" He sadly stares at me. Something is visibly not quite right. After some time he replies gently to me, in his English with the rolled r's: "No sir, it is not for the tea, it is for washing the baby". He immediately notices my surprised look, with my eyes probably conveying a hint of reproach. You can read me like a book… Can we really wash children here with hot water, although it is such a rare resource? The tea tent's hot water is used for hot drinks, not for washing away days of dirt and sea water accumulated during the trip, no, I am sorry, I am a man wearing a yellow safety vest, the one providing a trace of humanity in this long inhuman journey, but rules are rules, and here, everyone has to use freezing tap water to have a wash, be it men, women, children, elderly, babies or newborns, I am sorry, ana asef, je suis désolé, bebakhshid, sighnomi, this is how it is. However, the man understands what is behind my look and gets ahead of my words:
It's for the little one. For washing him. He died last night.
He is not crying, nor shouting. He is talking quietly, looking sad and tired. And he announces to me that his few months old baby is dead. A huge emotion fills me up instantly. Neither tears nor words, merely a shudder, a shiver, a strong unease and eyes wide open. And it is almost him who comforts me. Because the man wearing the yellow safety vest, the one providing a trace of humanity in this long inhuman journey, is not prepared for this. Babies, according to him, are not meant to sleep in the cold in a tent, according to him, babies are not meant to travel overseas in barely inflated rubber boats, according to him, a baby is meant to sleep peacefully in his or her warm cradle at home. The same goes for the man who rolls the r's. Or used to. Until the 4 walls standing around the cradle ceased to exist, until the fury of men and bombs expelled him from his ordinary life, along with his baby, until he tore off the baby from his cradle and its sweet warmth to start endless journeys, and thin tent canvas replaced walls, protecting him from the rain but not the cold. He knows how I feel and is sorry for me. This is how it is. The men wearing the yellow safety vests, those who bring a bit of humanity, often receive more of it from the refugees than what they offer. And this gentleman had a lot of humanity to offer me that morning. He quietly tells me his story, in his simple words, in his perfect English, rolling his r's a little bit.
It has been a long time since he left Syria with his family, too long. The road through Turkey then the crossing from Izmir beaches, the traumatizing crossing. He had left Syria with four children. He would make it to Europe with three. Why? Everyone was on the same boat. The crossing was dreadful. The sea was rough. Everyone was soaked. The children. The baby. While disembarking they were taken care of by kind yellow vest volunteers. The mother and baby by white coat doctors. The baby was tired yet wasn't suffering from hypothermia, alhamdolillah. So they warmed him up slowly. The mother warmed herself up too. And the baby was doing better. Then doing well. He fed on his mother's breast and fell asleep peacefully, swaddled in thick layers. The family, the four children, sat down inside the tent. The evening settled in. After having drunk the soup, everyone went to sleep. The men wearing yellow safety vests were looking after that family. They brought them blankets. Everyone went to bed; everyone fell asleep under a big pile of blankets. It was New Year's Eve. A good evening to go to bed early for that family, squeezed up tightly against each other inside the tent which flapped from time to time due to the cold wind gusts.
The children fall asleep. The baby falls asleep. The mother falls asleep. Then the father, reassured, the baby being well settled between them, falls asleep too. The night goes by. New Year's eve. The New Year is introduced by a clear cold sky. And the sun that rises slowly. Light floods the tent. Children are still sleeping. The mother is the first to wake up. She immediately turns to the baby. She had such a deep sleep. And the baby did not cry during that night. The first time since long. He did move and wriggle though; he must have had a troubled sleep. Oh, and he got uncovered. Quick, the blankets. Are you still sleeping tiny baby ? Sleep, my baby, sleep my angel, renew your energy. The road is still long. Why are your eyes open my baby ? Why don't you seem to be breathing ? What is happening my baby ? You are so cold. The mother gently puts her hand on his face. You feel so cold. What is happening ? The mother wakes her husband. My man there is a problem with our baby. Help me my man! My mother's heart is terrified to understand what happened. My man, my love, my babies… my man… my baby… my children… my baby, why didn't you yell? Why didn't you call your mom, why? Why after all this road? My baby, my heart, my blood, why? Come back to life? Don't leave me! Don't leave your mom, your dad, your brothers ! And your beloved sister! My man, wake him up! Why are you crying my man? It is our baby, wake him up, and warm him up! My man, where are you taking him? What is happening my man, Why is my baby dead? Did he freeze to death during this New Year's Eve, after this long road and crossing? Allah, Allah, why? Allah! I am nothing anymore…
Therefore, the man goes to wash the baby with warm water, to dress the body for burial, I don't know. Then he will go and bury the tiny body. Here.
On a land that doesn't mean much to his family. It is not the land of their heart, their beloved homeland, that they had to leave despite themselves. Neither the one that they would have more or less chosen to start a new life, just made out of peaceful everyday moments. And this baby did not even have a few months of happy life. This father, this mother, and their awful sense of guilt most likely, that morning upon waking up, their sadness that will remain like a scar their whole life; and this baby who, after all, would not play in the German gardens of which his mom must have dreamed of for him during that night.
Thus, the four children family would continue its road tomorrow with three children. And the father tells me this is god's will, but I cannot bring myself to accept it. Because this was not that little baby' destiny. I don't believe it. I cannot believe that God, Allah, or whichever divine power one might believe in would have decided this for that little baby. Neither can I believe that we should be consoling ourselves that the other three are alive, hence thank God. Excuse my naïve indignation, excuse my remarks if they sound shocking to a certain culture or vision, but I believe that the destiny of this child was to grow up and become a man, a doctor, a mechanic, a professional swimmer, or some sort of Mandela or Kofi Annan. So unless this story and all the ones that testify to that night at Lesbos are expressed and repeated over and over thousands of times, unless they are heard and understood by millions of people around the world, unless the simple people all around the world rise up together all at once to act and make sure that not another baby, regardless of its origin or its situation, freezes to death in a tent on our beautiful European soil, unless all of this happens, this baby's death will have been useless. If all of this is achieved, then its destiny would make some sense. However, my friends, I am not that optimistic. Aylan and the photo of his washed up corpse on a Turkish beach have travelled across the whole planet. Yet, ever since, there has been dozens of Aylan's every day. And this baby is nothing but another anonymous Aylan, among others. It affects me because I lived this story. It affects you because I tell it to you. However you will forget all about it. It is only normal. I, on the other hand, never. And I am afraid his death has not served any purpose. None whatsoever.
The man tells me the story, but my mind imagines, and it is awful. At that moment in time, it is merely a strong emotion, plus I am the man with the yellow safety vest. The one who smiles and acts, not the one who cries the loss of lost lives. Thus, I listen to his story and observe him walking away slowly, holding the hot water thermos flask in his hand. I am most deeply touched by this story, without realizing it at that moment in time, since I am instantly caught up in another story. Other refugees arrive, other refugees to comfort, to guide, to feed, to dress. Other volunteers to greet and with whom to talk. The yellow vest man doesn't take breaks in Moria camp. The break consists of extracting himself by force, long after the scheduled commitment most of the time, tired, nervous, the trace of any smile having left his face, to go and take a warm shower and have drinks laughingly with other yellow vest friends, mentioning the most remarkable stories of the day.
That day is my last day; and it is New Year's Day. In my little red car, while I make a U-turn on the road towards the port, getting ready to leave the site, crossing the first few meters separating me from Moria, my eyes meet the tired and sad ones, yet void of anger, of a man waiting by the side of the road, stoically. What is he waiting for? His eyes meet mine and the depth of his look affects me. I cannot say why. Maybe because that look is that of the man who came from Syria and lost his baby that morning? Did Heaven in the skies want to send me a signal? This will be the last man whom I make eye contact with while leaving Moria. As if he, too, wanted to send me a signal, to leave a message for me, to tell me go, be the messenger, tell my story. Go; go tell the world what is happening here. « Go; go tell the world what is happening here. » Go tell the world that on your European beaches, those where you spend your summer vacations, sipping on your cocktails, on your beautiful European beaches, you leave our babies freeze to death, after a long inhuman journey. Go tell the world that closing doors means accepting the death of innocent children, and that it is time to be prepared for the violent revolt that may follow.
Yes, we do leave babies, here, in Lesbos, and all along the refugees' route through Europe, freeze to death in makeshift tents on New Year's Eve, at minus five degrees temperature. This baby escaped bombs and bullets in Syria. He survived the crossing of the Aegean Sea in a rubber dinghy, submerged by freezing cold water. To come here and freeze to death on this beautiful Greek land on a New Year's Eve. How can one say "Happy New Year" after that? Happy what?
I did not even think of stopping to greet the man. I cried. I mourned my country. The French People. Who doesn't understand. I mourned the world, its ignorance and my helplessness. Then, after all my tears had flown, and after they dried up, comforted by my close ones and Lesbos' angels, I determinedly took on my role as a messenger, to tell the world loudly about the lost life of that baby.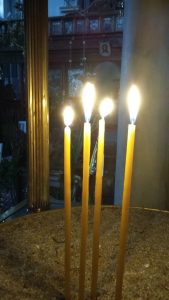 Beautifully translated from French original Je suis un homme à gilet jaune by Dooda al Masria.
Lesbos refugees children cemetary picture is from: Amrit Singh (@MrASingh) NowHumanity.com
Would you like to volunteer in Lesvos or donate for the refugees you can contact Better Days For Moria
And follow them on facebook: Better Days For Moria
You might also want to read: My name is Xié
Enregistrer
Enregistrer
Enregistrer